Affiliate:
Shop: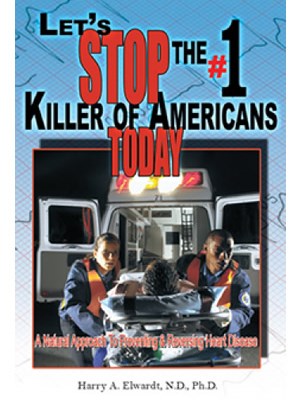 BOOK - LET'S STOP THE #1 KILLER OF AMERICANS TODAY
Brand: The Health Guardian, LLC
Product Code: THG-1
Availability: In Stock
Product Details
Even with America's most advanced surgical procedures and pharmaceutical drugs, nearly one million Americans are still dying every year of heart disease. We are failing miserably at stopping this silent killer, which is not just a man problem; in fact, 500,000 women fall victim to heart disease each year, dwarfing breast cancer. Heart Disease, which costs the American public over 298 billion dollars a year, is just one form of cardiovascular disease, others include: hypertension, high cholesterol, diabetes, coronary artery disease, peripheral artery disease, congenital heart disease, congestive heart failure and stroke.
Dr. Harry Elwardt is a doctor of naturopathy with a Ph.D. in health and nutrition. He believes there is no reason for this killer to rule the day. That through education of the causes of cardiovascular disease, the use of the latest in early detection devices, and the implementation of a good diet, exercise and nutritional supplement program, heart disease numbers can begin to decline in America. We may be winning the war on terror, but we are losing the war against this illusive enemy. Don't wait until you or someone you love fall victim to this ruthless killer. Dr. Harry Elwardt has declared war on heart disease and in this book he lays out a strategic plan of attack. He believes it is the choices we make right now, not leaving it to chance, that determines our wellness and our destiny! Won't you join him in turning the tide in this covert war against the American people?